Welcome to the cosmic highway of exploring your inner and outer worlds.
Welcome to the cosmic highway of exploring your inner and outer worlds.
Healer Dealer is a mix of deep conversations, insights ranging from the hilarious to thought-provoking—all with the intention of guiding you to be your own healer and your own muse. 
I invite you to question everything while you discover what tools and practices work best for the unique being that is YOU!
I'm your host Diana Zalucky and I'm passionate about exploring consciousness and the limitless possibilities of our ever-evolving creative genius. I love to share tools and practices that blend the mystical with the practical to support you in creating your most inspired fulfilling life. 
After almost twenty years as a commercial photographer and director, I gave myself permission to expand my expression by hosting this podcast, becoming a best selling children's book author, and a spiritual advisor, coaching creatives on how to connect and channel their own Akashic Records. I'm proud to be a multifaceted creative and if you're here, I know you are one too! 
My intention here is to support YOU in taking the leap to trust yourself, your connection to spirit and guide you to deep dive with your creative genius, so you feel confident in making all the things! Healer Dealer isn't about being this or that—it's about embodying this and that. You are your own healer and your own muse! 
This is Healer Dealer. Let's get started!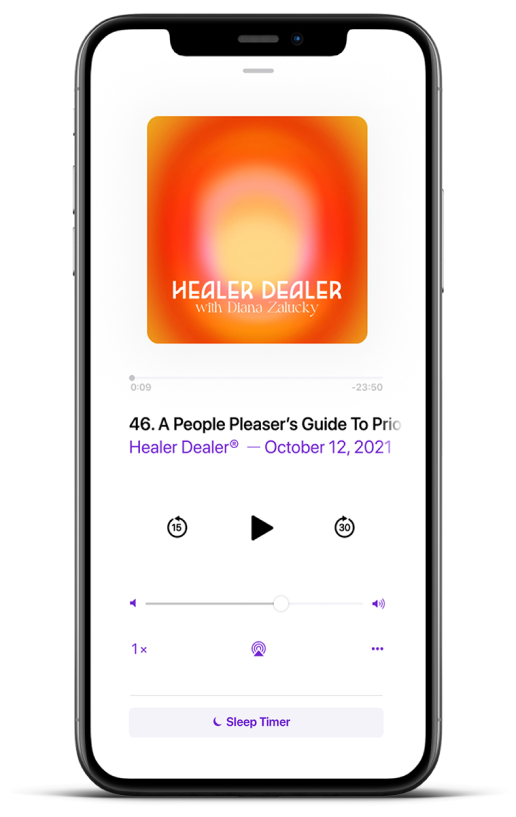 SUBSCRIBE TO OUR NEWSLETTER
VIP access to the Healer Dealer Download!
A monthly newsletter sharing all things creativity and consciousness to support you on your journey!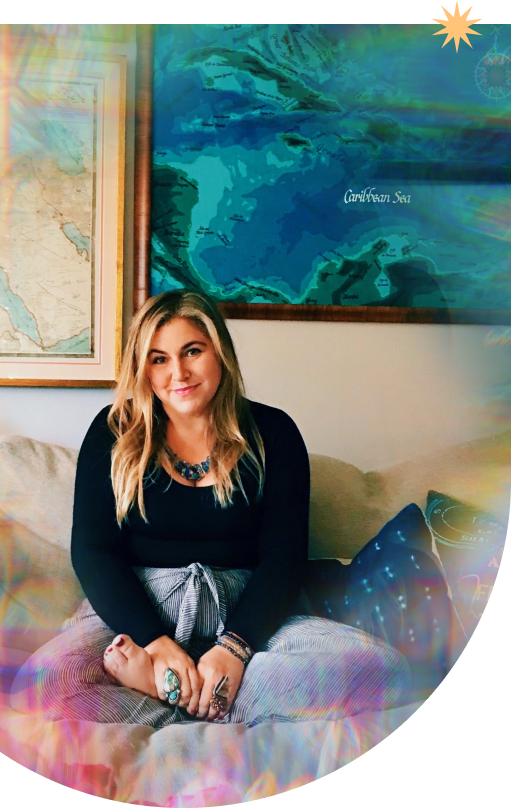 "Diana often speaks in fantasy" were the words written in Diana's preschool report card. Diana went from an imaginative schoolgirl to a multi-passionate woman living her life as a creator and an adventurer. Diana's fresh, intimate and cinematic visual storytelling has given her the opportunity to shoot and direct for a wide range of clients all over the world. In 2019, Diana's love for mystical and magical realms guided her to launch the spiritual podcast Healer Dealer. During the lockdown of 2020, she stepped out into the world as a spiritual advisor helping creatives trust their intuitive gifts and share their unique creative expression with the world. Diana herself wrote her debut children's story, "Peyton and the Magical Compass".
Diana loves creating, exploring the mountains, surfing, cuddling with her two magical cats, Lucy and Clash, and reading multiple books at a time.
You can follow her on Instagram @dianazalucky
You'll see she still speaks in fantasy.
Diana is so tapped in to spiritual wisdom but never takes herself too seriously. This is such a beautiful offering that never fails to lift my spirits and educate me all at the same time! What a perfect listen for those just starting to dip their toe into the mystical waters and well seasoned healers alike. Thank you Diana for blessing the world with your substantial magic!
Diana is truly a gift! I'm so grateful to have connected with such a goddess! She is full of light and love listening to the podcast I'm always uplifted and inspired when tuning in! I've implemented lots of her advice and tools in my life and still healing and dealing!!!! Tune in and download these so you can come back to them!!
I love how effortless the hostess guides the conversation and creates a fun and informative atmosphere that makes the beauty and blessings of spirituality accessible for anyone.
I love how effortless the hostess guides the conversation and creates a fun and informative atmosphere that makes the beauty and blessings of spirituality accessible for anyone.
This has quickly become one of my favorite podcasts!!! Diana is absolutely hilarious and her enthusiasm, excitement, and authenticity make me want to listen to every episode. She is so wise, relatable, fun, REAL, and high vibe. The topics are so insightful, spiritual, and thought-provoking. I low key want to be her best friend. Thank you Diana for this incredible show
Dianas' podcasts are such a refreshing look into all things magical and healing. I feel like I am evesdropping in a good way on a conversation between two good friends. You can tell how much Diana respects and loves her guests and vice versa. These podcasts are so easy to listen to, they are informative, inspiring and thought provoking. With such a variety of topics centering around healing you are sure to find something that hits home for you, whether this is new to you or not. Thank you Diana for sharing these conversations with us.
The Healer Dealer podcast is such a great listen. It's magical & accessible all at once. I learn something with each episode. Diana is so relatable. Highly recco to anyone looking to expand their own inner magic
I love this podcast so much! The host is phenomenonal, brings on amazing guests, asks great quesitons and is also hilarious! This is now my number one podcast I listen to to feel enlightened, empowered and joyful. Each guest is an expert in thier field and offers alot of great info how to live a more joyful life through diverse spiritual practices. I feel like I am just listening to friends talk and it listening to the Healer Dealer podcast makes me look forward to my commute. Thanks Healer Dealer!
I have always wanted a podcast to listen to that discusses topics within spirituality, but most of the podcasts I find on these topics are either poorly produced or inconsistent (or even sometimes a little under researched). But luckily healer dealer now exists! This podcast is so well made. Diana is thoughtful, well educated, and well prepared for every episode. And the guests she has on are legit! I love every episode and get so excited when I see a new one has been released! Thank you healer dealer for filling this void for me!
Wow! Healer Dealer has definitely become one of my favorite podcasts to listen to as part of my mindfulness practice. I adore listening to this podcast to learn more from the mystics of our time, and I also admire Diana for bringing such an eclectic group of individuals together to create a magical community.
Diana's curiosity and wit is infectious. She does an incredible job curating the guests and taking a deep dive into their spiritual lives and how you can best integrate practices into your own. It's fascinating to understand how these healers work and each podcast feels comfortable, empowering and informative.
Healer Dealer is an engaging and edifying podcast with interesting perspectives on a wide range of topics. (Many of which I knew nothing about.) I always find a little something in each conversation that I want to incorporate into my daily life or outlook. Love the podcast!
Diana's enthusiam for her guests and willingness to share her own experiences in working with said guests gives this podcast such a unique perspective! The guests cover such an interesting breadth of practices, and yet the common theme throughout is a deep desire for healing and spreading the gifts of each guest she is interviewing with her listeners. It is a real gift and her enthusiasm is contangious (and educational!)
If you are looking for someone to point the way to modern healers and visionaries - look no further than this podcast. Each episode is a peek into different, fascinating mystical techniques and personalities. Plus, Diana Zalucky has a way with words and her enthusiasm is contagious.
Diana is hilarious, poignant, witty and on point. She asks pivotal questions and unearths deeper meaning from the most seemingly mundane moments. Her laugh is contagious and brightens my mood and her guests are thoughtfully chosen to help elevate consciousness and inspire intentionality. I LOVE this podcast!
I am in love with the diversity of the conversations and healing work that the guests bring! I feel like a curious stranger eavesdropping into a juicy conversation and leaving a little better because of it. Delightful!